This article was submitted by Beerknurd, Collin Zreet. Have a beer tale to tell? We want to hear your best bullshit. Submit your stories now.
As I was visiting Seoul, South Korea, the world's second-largest metro, I decided to seek out the local beer scene, hoping to find new suds in the "Land of the Morning Calm." Beer was first introduced to Korea during the 1910 Japanese colonial invasion. The Japanese picked up their love of beer and brewing traditions from the German expansion in the early 1800s.
The German influence is present on the streets of Seoul, as they're lined with signs for "hofs," which is actually short for the German word Hofbräuhaus, or pub. From a few visits to these hofs, one thing is evident: The most widely available beers here are light lagers. The most ubiquitous light lager beer brands are Cass (brewed by AB-InBev-owned Oriental Brewery) and Hite (brewed by HiteJinro, a Korean-owned regional distillery and brewery). Similar to their American counterparts, these beers are heavily marketed and available almost anywhere that sells beer. Other than these, the only other beers I could find at these hofs were typical imported European beers such as Hoegaarden, Heineken, Leffe, Carlsberg and a sampling of Japanese beers such as Asahi and Sapporo.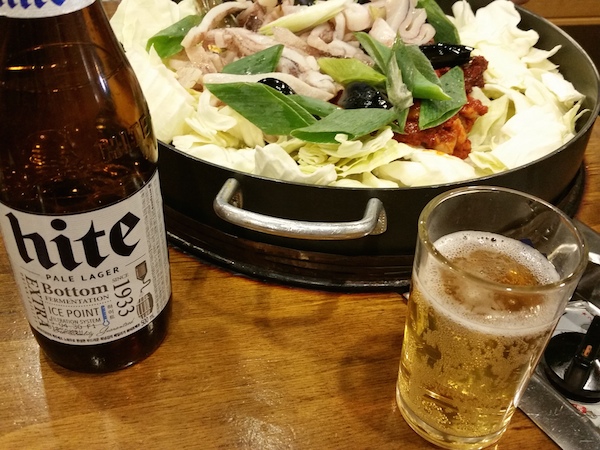 Despite the wide availability of these macro brews, beer is not the drink of choice in Korea. Enter the magic of soju, a distilled liquor traditionally made from rice but now mostly distilled from potatoes due to concerns about historical rice shortages. Most soju is about 20% alcohol by volume, but more premium versions weigh in near 40%. The taste and overall substance of soju are akin to a lighter version of traditional vodka. The greatest thing about soju is that a 375 mL bottle sells for a little over 1,000 W (about $1 USD) and is available everywhere from convenience stores to virtually all restaurants. Even though soju's potency lies between beer and liquor, Koreans drink it like water. My traveling companions and I noticed locals having three or four bottles each over a meal in the street markets as if it were nothing. But I digress.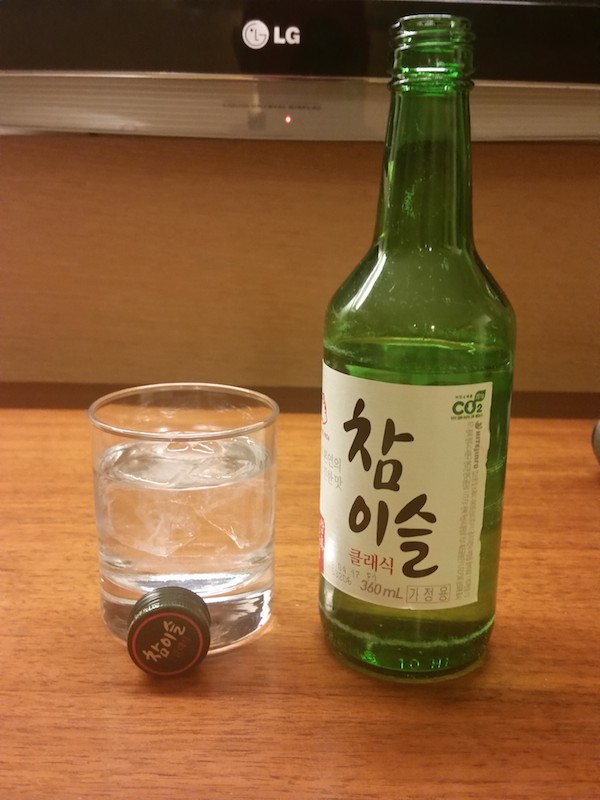 After a few days, I was about ready to abandon my hope of finding any kind of craft beer along the streets of Seoul. I decided to check out the local grocery store, hoping there would be droves of commercial craft beer like here in the United States. Instead, I found only a small shelf of craft beers dominated by West Coast American breweries such as North Coast, Caldera and Ballast Point. However, I found two beers I didn't recognize and with labels I couldn't read. They turned out to be a pale ale and an IPA from local brewery 7brau (again, more German influence). I picked those up with a few bottles of soju and brought them back to my hotel room for later enjoyment.
That night, I popped both beers open, but to my chagrin, neither were very good. They were overly sweet and contained oxidized cardboard-like flavors, most likely from sitting on the shelf too long.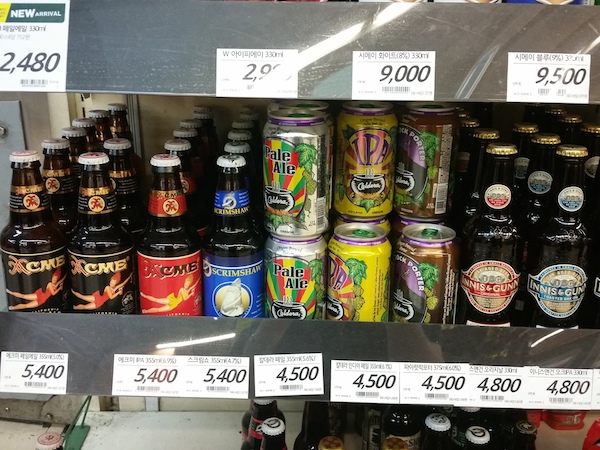 I was determined to find some semblance of a craft beer presence in Korea outside of the streets that surrounded my hotel. After some consulting in my guidebook, I decided to set off to the district of Itaewon in search of a local brewpub and restaurant called Craftworks. In search of the brewpub, we actually stumbled upon a small alleyway, which seemed to harbor almost all of the Seoul craft beer that we would eventually find. The first place we found was The Booth, which was decorated with local art containing a skull-figured Mickey Mouse and Darth Vader in a business suit. The following mantra was written on the wall:
Beer just shows you that no matter how full your life may seem, there's always room for a couple of beers with a friend at The Booth.
This mantra seemed to sum up the entire area, as evidenced when the locals came out to socialize and drink in the alleys.
Though The Booth only had four beers on tap (a pale ale, a wheat ale and two stouts), the pale ale and cream stout were solidly made in the American tradition, which left me relieved to finally find some flavorful beer in Korea. Compared to American craft beer, these were nothing special or different, but I was ready to drink anything that wasn't a light lager. We then swung by a pizza place around the corner that also boasted several craft beers on tap. I ordered an Indica IPA from Lost Coast just to have anything with a full load of hops in it. We also tried a few regionally made beers from Weizenhaus, which offered a stout, a pale ale, a golden ale and another wheat ale. As you see, the Seoul craft beer trend seems to be limited to the same three or four styles.
After some more sightseeing, we decided to come back to Itaewon to try and find Craftworks again. After retracing our steps, we finally found it crammed between buildings just outside the Noksapyeong subway stop. Once we were seated, we were glad to see it boasted seven house beers, which were all available in a sampler flight. After all the waiting and buildup, I was a bit disappointed with most of the beers presented, as they were lighter, flavorless versions of their American counterparts. Perhaps they were made that way to satisfy the sensitive palates of the local Koreans? The final beer in the flight, however, was my favorite beer of the entire trip—The Moon Bear IPA.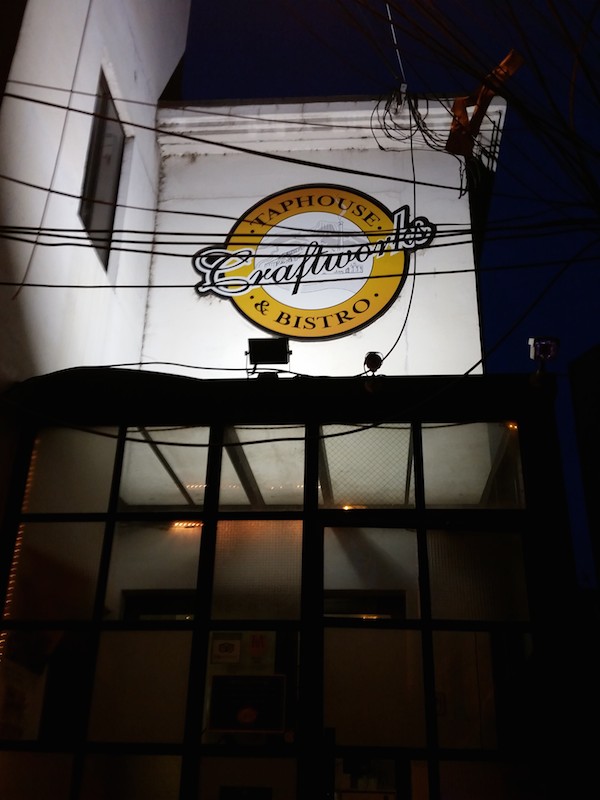 After dinner, we decided to keep exploring the area. We found Magpie Brewing Company, which had been closed earlier in the day. I was relieved to see something other than the typical stouts and wheat beers we had seen everywhere else. Two of the better beers they were pouring were a Belgian strong ale (at 7% ABV this was the strongest beer we had seen anywhere) and a rich, roasty porter. They also seemed to regularly rotate several beers in and out of their lineup, as seen in the label artwork hanging on the walls. Similar to The Booth, the space was a small, simple concrete room, and with no open container laws in Korea, most of the clientele spilled out into the walkway outside, bustling between all the shops and pubs lining the alleyway. This goes to show that the best places aren't necessarily the ones you plan for.
Next door was The Bottle Shop, where I learned another important lesson about Korean beer: If it's imported, it's expensive. I was glad to see loads of Danish Mikkeller beers among even more great American craft beers such as Evil Twin. After grabbing a 750 mL bottle of Mikkeller Ink and Blood and a 12-oz. bottle of Beer Geek Brunch Weasel, I quickly put them back, as my bill would have been more than 80,000 W (about $74 USD). We also found a beer bar across the street called Beer for Geeks, which only served imported beers, most of which from breweries like Mikkeller and To Øl, and mostly very expensive.
With some of the best examples of imported craft beer being so expensive, it explains why there isn't a stronger showing of local craft beers.
Had we stayed in Seoul a bit longer we could have attended the Great Korean Beer Festival, which was taking place the following weekend. It seems that a majority of the beers provided come from Korean importers bringing in beers from across Europe and the United States, including Pizza Port, Brewdog and Modern Times. Korean breweries such as Big Rock Brewing and the aforementioned Craftworks Brewing looked to be major players in the event as well.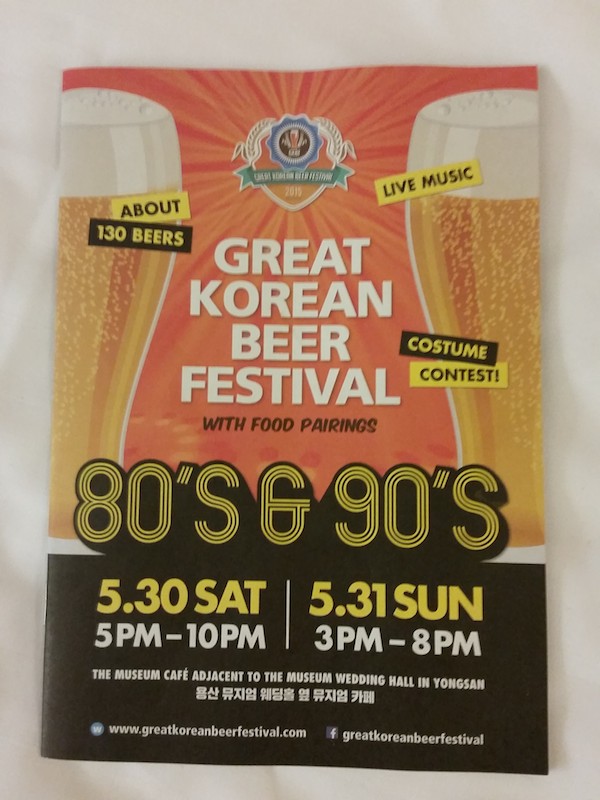 While I wouldn't say Seoul is a craft beer destination, if visiting I would highly suggest finding your way to Itaewon and exploring the pubs in the area for the best beer you will find anywhere in the city. Most importantly, the people are friendly. No matter where you roam, you'll be in for a good time.

Best Seoul Brewery: Magpie Brewing Company
Best Seoul Beer: Moon Bear IPA, Craftworks Brewing
Biggest Beer Selection: Beer for Geeks

Key Korean Drinking Phrases:
맥주
(maeg-ju)
Translation: Beer
건배!
(geon-bae)
Translation: Cheers!
마실해야
(ma-sil haeya)
Translation: A Korean three-syllable drinking chant: You must drink!
구징안픽
(co-jing-an-mek)
Translation: A Korean shot made with dark cola, soju and light beer: You suffer first, but then you get the best (because the harsh soju hits first followed by the sweet cola)
백세주
(baek-se-ju)
Translation: A Korean rice wine that will help you live to 100, according to tradition
---