So this funny thing happened ten years ago…I was hired by Flying Saucer in Houston, Texas.
What a crazy year this 10th year has been. Hurricane, Super Bowl, and a World Series. Not sure if I would have wanted it any other way (well…maybe except without the hurricane.) Especially, if you know anything about the downtown Houston Flying Saucer. It is where you want to be during any big city event — even a natural disaster.
The Super Bowl
A star studded, amazing weekend with so so SO many cool out-of-towners. Doug Flutie has become a regular whenever he is in town. Doug Flutie Flakes! What a stud. He loves us. He told me that! We broke sales records. We had one of our sister stores send staff to help (shout out to San Antonio Saucer!). It was fun. Real fun. It was what every restaurant manager strives to accomplish. We had sales goals that we crushed and we executed a well thought-out game plan as a team. I could not have been more proud of my team. We have the best team here.
Hurricane Harvey
It was not fun. It sucked hard. For a million stressful reasons. I downplayed to myself what was going to happen before it happened. I worked during Hurricane Ike in my first year here at the Houston Flying Saucer. I learned to not compare two hurricanes. No two hurricanes are the same. We had to close our doors. My early days in this business I learned that when times are tough…keep the bar open. So, closing the doors is not ideal. If you can open…open. People need a place to commiserate, vent, blow off steam, see their friends. It is one of my favorite things about this business.
People had been stuck inside. People had been spending day and night helping other people who had lost everything. When we were finally able to open the doors after Harvey, it was amazing to see how happy people were. News anchors, cops, The Cajun Navy, and tons of Houstonians were all here sharing pints together after it was all over. It reminded me again how important a pub and a bar are. Events like this seem to remind us that a pub or bar will always be a place to go just to be with other people — good times and bad. It was a terrible storm and flood but a time I will always cherish.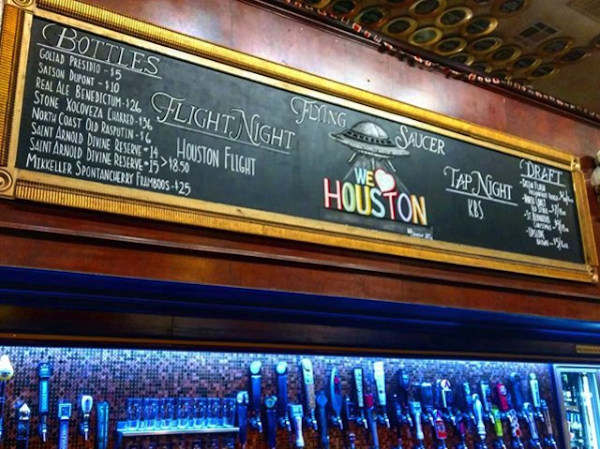 The World Series
Now, I have to start by telling you that I am a Texas Rangers fan…the worst kind of Texas Rangers fan. So, the Houston Astros winning the World Series was very bittersweet. But I am glad I lived here and worked where I do during this amazing run by the Houston Astros. Flying Saucer is only a few blocks from Minute Maid Park and we were fortunate to sell A LOT of beer to Astros fans during their amazing postseason and World Series run. And then, the victory parade? Literally a block from us! A day that will live in Saucer infamy for eternity.
But the sales aren't the thing I will remember. The sales were great and it is for sure what every business hopes for. The part that will stick will be the absolute joy that my friends, colleagues, family, and patrons got out of watching their hometown heroes win one for THEM. After a hurricane. A terrible hurricane. I know there are some people outside and inside this market that were probably sick of hearing that story line and seeing the videos of historic flooding while watching baseball. Hell, there were so many people trying to capitalize on that story here in Houston that it got tough for us to stomach it sometimes. But watching a GAME make so many people happy is something I will forever be grateful I was around for. Our store was boooomming. Full of energy every damn day. So cool.
Ten Years Of Selling Great Beer
The beer market and beer scene has for sure changed so much in ten years. Good and bad. I love beer. I love the flavor of beer. I love the social aspect of beer. I love selling beer. I still get excited when I get to sell beer.
Ten Years Of Working In Downtown Houston
The Downtown Houston landscape has changed so much over the last ten years. On my drive to work, I sometimes can't help but be blown away by the city's ever-changing landscape. It's crazy to see so many new buildings, bars, and restaurants always popping up. I love the drive into Downtown. Love it. Being from a small country town, the big city lights still get to me after ten years.
What hasn't changed in ten years is my growing love for this company and this city. I loved Houston the moment I moved here. I love watching my beautiful family blossom and grow in Houston. I love Houston's loyalty to everything we hold dear and everything we claim to be ours. It truly is amazing. (I can say 'ours' now right? Ten years should give me that privilege.) I am a Houstonian now.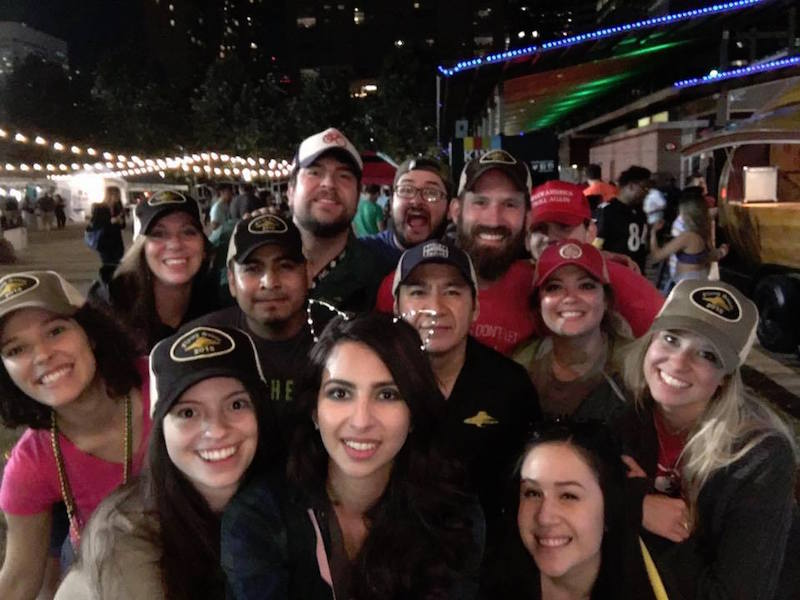 I love this company that I work for. We ALL work hard. From the top down. We all strive to be the best and we hold each other accountable so we CAN be the best. We care about our people. We care about our loyal customers. I am forever grateful for the chance I was given when I moved here ten years ago.
Thank you Houston. And thank you so much Flying Saucer. I am going to raise a pint this New Year's and hope 2018 is an even more amazing year.
Cheers,
---