Saint Arnold Brewing, Texas' oldest craft brewery, turns 23 this year. Ask any Beerknurd who's had the pleasure of sipping a Saint Arnold, and they'll tell you the Houston-based brewery makes some of the best beer — not just in Texas — but the world. The 100% independently-owned brewery consistently brings a dynamite portfolio of beer to the people and in doing so has inspired several other Texas breweries. And best of all, the Saint Arnold Brew Crew are simply some of the most bad ass folks you'll ever meet.
"We're honored. Flying Saucer is the FIRST bar they'll be available in Houston." – Asa Hanrahan
So, in celebration of their 23rd anniversary, a select handful of some of those breweries that Saint Arnold has inspired have gathered together to pay homage to the Texas craft beer legend. The Fellowship of Houston Beer features five Houston breweries that have brewed their own interpretations of Saint Arnold classics all as tributes:
Lone Pint – Brock the Night Away (Imperial Black IPA) – Tribute to Santo
Eureka Heights – Chop Shop IPA (Triple Dry-Hopped IPA) – Tribute to Art Car IPA
Brash – Knutsens Farm – "Some kind of crazy tribute to Weedwacker"
Southern Star – Extravagant Yard Cutter (Hoppy Kölsch) – Tribute to Fancy Lawnmower
B-52 – Bishop's Gone Wild (Kettle Soured Amber Ale with Raspberries and Blackberries) – Tribute to Amber Ale.
And as if these creations don't have us excited enough, Beerknurds have the special privilege of being the FIRST to taste them as Houston Flying Saucer taps these bad boys on June 5th — before any other bar in Houston (maybe Texas). Starting at 6PM, Beerknurds can get flights of the tributes along with flights of the originals at the Downtown Houston location. Full-sized pours start flowing at 7PM.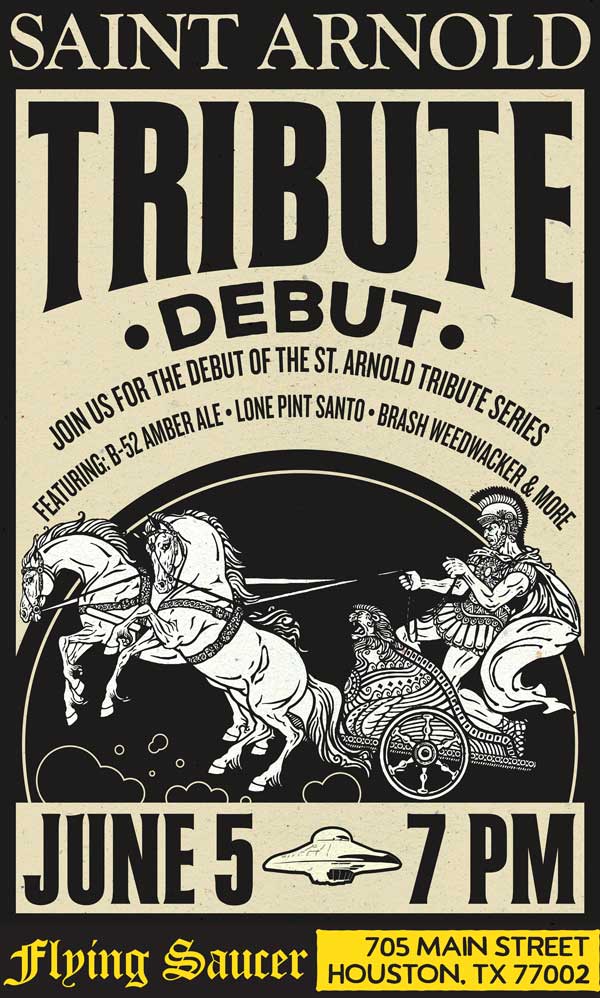 "We're honored. Flying Saucer is the FIRST bar they'll be available in Houston." says Asa Hanrahan, GM of Houston Flying Saucer. "Saint Arnold makes some of the best beer in Texas and it's such an awesome tribute. I'm feeling like a Beerknurd again with this event. I haven't been this excited since Stone'd For 6 Days."
Flying Saucer is indeed honored to be the first bar in Houston to tap these incredible tributes. We strive to be the best craft beer bar in Houston so that we can treat our Beerknurds to exclusive opportunities such as these. So, all Houston Beerknurds should make plans to be at the Saucer by 6PM on June 5th.. We're expecting the beer to flow fast once it's tapped.
Join and share the Facebook Event for more info and updates. And when you share your beautiful Saint Arnold tribute beer porn pics on social media, be sure to thank Saint Arnold for their greatness!
Saint Arnold Tribute Details:
Flights of Tributes and Originals start at 6PM
Full-sized pours start flowing at 7PM
Downtown Houston Flying Saucer:
705 Main Street @ Capitol
Houston, TX 77002
(718)228-9472
---