Let's talk about Black Friday for a minute. I've read where some people camp out in front of stores just to catch some great deals on Christmas gifts. I can't imagine.
If I'm going to be awake at 3AM the Friday after Thanksgiving, it's likely that I haven't gone to bed. If that is the case, I could be sharing a jewel of a beer with close friends (surely enduring palate fatigue and regretting the cellar depletion later). Personally, on this holiday, I'd rather miss the crowds and enjoy a little hang time with friends and family.
If you feel the need to get out of the house on Friday, however, here's a little heads up on what some of our beer joints are doing:
Flying Saucer on the Lake is hosting a VERTICAL TASTING of Pumpkinator 2013–2015.
There's that and then there's the always popular Black Friday release of Goose Island's Bourbon County line. Addison and a few other Flying Saucers will be honoring this tradition with additional beers from the Goose Island portfolio, including its vintage series beers. A quick search on social media shows a good lineup at Sugar Land, Houston and Fort Worth.
For those Beerknurds further east, the gang in Little Rock will be opening the doors for breakfast, served from 10AM to noon.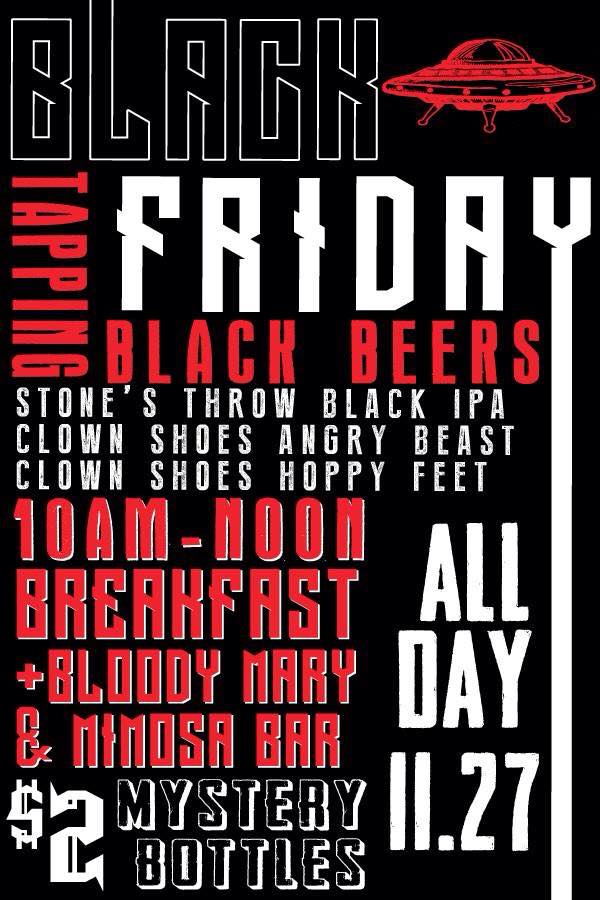 Further on down I-40, Memphis is tapping into some special Tall Grass beers, including Bourbon Barrel Buffalo Sweat, a fine oatmeal stout that's been aged in bourbon barrels.
In the Carolinas, Flying Saucer Charlotte will be tapping into a trio of well-brewed stouts: Epic's Big Bad Baptist, New Holland Dragon's Milk and Great Divide Yeti. That lineup alone should make it worth your trip. You might just impress a few in-laws as well.
Team Raleigh went all out here with its 12 beers of Christmas. No time like the present to start tasting.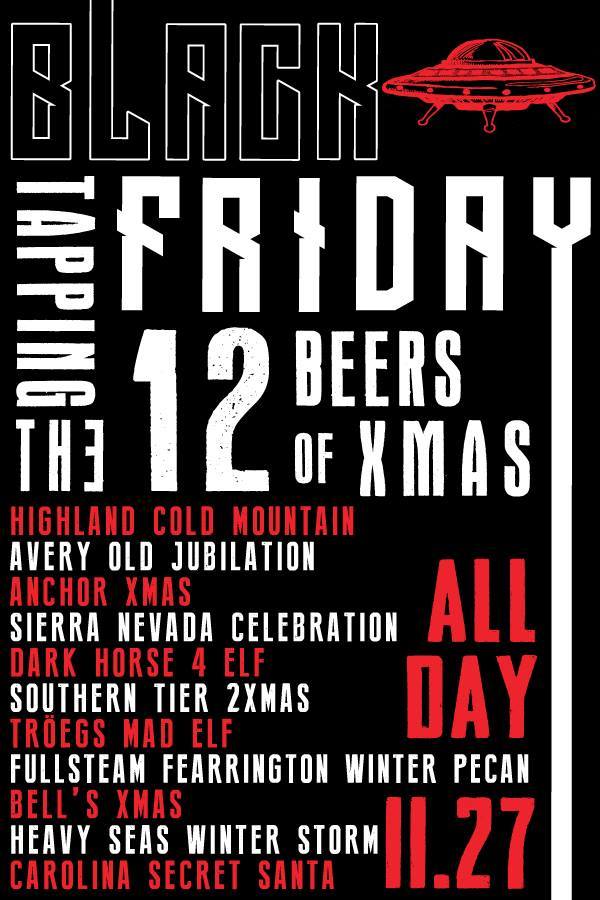 Enjoy your family, drink some beer and spread some cheer.
---