Beerknurds in Texas have asked and asked us at Flying Saucer for years: "when will we be able to get Bell's Brewery beer in Texas?" As it turns out, they've been asking Bell's Brewery that same thing. After a much anticipated wait, March finally brought the launch of Bell's for Oberon-, Two Hearted-, and Hopslam-thirsty fans.
As you would expect, the decision and plan to bring Bell's to Texas was a well thought out one, since citizens of the Lone Star State are responsible for purchasing 9.5% of all beer sold in the United States. That's second only to California. Texas consumed over 626,000,000 gallons of beer in 2012. Again, second only to California — which also has 10 million more residents. We won't make you put down your beer to do that math, but you can figure out that per capita Texans are doing a hell of a lot of heavy lifting when it comes to drinking beer. So, if you're a brewery and you're wanting to crack the seal of the Texas market, you better be sure you're prepared to provide enough beer for your giant army of new customers without disrupting the flow to your current ones.
On top of that, what do you do if you're the newly promoted CEO of one of America's most beloved independent craft breweries that — oh, by the way — your father founded when you were just a few months old? How do you ensure a smooth launch into the nation's 2nd largest market? How do you continue to grow the seventh largest craft brewery in the country? How do you stay ahead of the marketing game? How do you navigate the ever changing landscape of craft beer?
These are just a few of the challenges that face Laura Bell, former VP and freshly promoted CEO of Bell's Brewery. Her father, Larry Bell, established Bell's just over 31 years ago and took it from passion-filled homebrewing project, to the largest craft brewery in Michigan, to a top-10 brewery in the nation — all through talent, dedication, a passionate family of employees and fans, and supporting partners.
Over the last year, Bell's has undergone a $50 million brewery expansion (which allows them to brew one million barrels a year), entered seven new states, and now, named a new leader. We were fortunate enough to sit down with Laura at the Fort Worth Flying Saucer launch party to discuss her role, what expanding to Texas means, and the current state of craft beer.
Laura Bell of Bell's Brewery
Welcome to Texas! What the hell took you so long? What was the process like and what were the logistics of trying to get to Texas?
Thank you! We know it took a while, but we had to make sure it was time. We've really grown based on our customer demand versus production capabilities. The states that we've been in and the ones that we've gone to have been decided based upon projected volume, where we've been, and whether we can make that much beer.
With our new bottling line that we put in last year, we realized that we could make this happen. It took a while to make sure that we could get here and make all the beer that we needed to make.
I used to do all of our customer service about eight years ago and even then, the state that was most requested was Texas. "Come in here! We need you here!" So, with the reduced limits of production capacity and the overwhelming hospitality aspect of Texas, we were like "yeah, we could make this happen."
We saw pictures of people's trunks full of Oberon that they would stock up or have sent to them, and we knew we had to do it. Now with the new bottling line, we can.
You've been CEO of Bell's Brewery for just over a month now. How's that going?
So far so good. I think I've only had one day where I was like "why did you want this?" Kidding! It's a great opportunity to bring together all of the departments. And make sure our growth strategy is where we need it to be. How do we grow and yet stay small? As you get bigger you still have to stay true to who you are and what it was that drove that growth.
But, I've honestly been trying to be home more. I'm caught up on my laundry! I'm getting a dog in July! It's something that I've been wanting to do for a while. I just figure it was time to take the time and get a dog. I'm an adult.
You've said your role is to make sure Bell's is ready to navigate what comes in the future. What do you see coming in the future and how do you prepare?
We are in a really interesting time in our industry right now. We've benefitted from this craft excitement. A rising tide raises all ship. As the industry has exploded, it's helped us. But we're in a weird space where the more you grow the more challenges you have to face that you had never foreseen or expected. What is our identity, how do we get it out there, and how do we stay true to that?
What I see in the future is this continuing confusion of who owns who, why that matters, what it means to brew quality beer, and that in craft…we're not all best buddies any more. And that's going to be challenging to navigate. There's only so much shelf space.
And on top of that, how we define ourselves? We're going to do what we do and make our beer and stick to our roots.
Are you finding new, innovative ways to tell your story/market yourself? How are you standing out?
We look to our partners. We have distributors, retailers, and people that drink Bell's. We have to look at each avenue and think about different ways to reach those three different groups. We take a personal, approach like we always have.
You want distributors to be excited. You bring them up to your brewery and educate them.
You have to excite and educate retailers. Just like distributors, we love to have them in, show them our process, what's coming in the future, and learn what we can do together.
And customers. We love to see them excited and social media is a great new way to do that. We host brewery tours and it's great to see the excitement. We do something different to give our fans something different. For example, we have specific tours dedicated to Oberon.
We had a Hopslam tour where people submitted videos to enter. People paid their own way to come see us! How cool is that? So, we want to capture that excitement. And at the same time we're trying to educate people as to why it matters that they should care where their beer comes from.
You've opened in seven new states in the last year. What are the top lessons you've learned entering new markets?
I think we've really refined the beer ordering process. We've learned how to be more accurate with that. Part of going into a new state is pulling out your crystal ball and trying to figure out what the supply and demand are. So, talking to your distributors and learning what you need to know makes a big difference.
Also actually being there makes a difference. For Texas, in particular, if we were going to do this, people — reps, distributors, me — would have to be everywhere. You have to make those relationships and touch those avenues and consumers.
Fort Worth Flying Saucer welcome Bell's Brewery with a launch party.
Beerknurds were excited for samples of Bell's
The Roomsounds provided a rocking soundtrack for the party.
It was a beautiful evening for Bell's.
Beer Goddesses were excited to welcome Bell's.
Fort Worth Flying Saucer GM Bobby Jones enjoying a Bell's Oarsman.
What's something that craft beer can teach the world?
This is really hard. I actually think that we (craft beer) have a lot to learn from the world and we could grow up a little to be sensitive to our world. How do we really identify our opportunities to grow as an industry whether that's diversity, inclusivity, business practices? How we do still maintain our craft identity and we — as a bunch of ragtag brewers — stay true to who we are?
Tell me about Am I Right or Amarillo? Did the decision on the hops (Amarillo hops) come before the state or did the state come before the decision on the hops?
My dad loves the band Asleep at the Wheel. And there's a song called "Am I Right (Or Amarillo)" and he said "I want to make this beer and when the time comes to go into Texas, I want this beer there."
When we say "inspired brewing" we mean it. Because Larry will say "you know, I had this dream the other night." That's literally how Quinannan Falls was born.
How many other market specific beers do you make?
None. He (Larry) just wanted to make that. And he wanted to make it for Texas. It certainly has sparked some more conversation. Because it's been really fun.
Can we expect any other Texas specific beers?
I would say not at this time. We reserve the right to bring back Am I RIght, but we have no leads on that yet.
What can Texans expect from Bell's? Why should Texans choose Bell's?
I think that Texans can expect high quality beer at fair prices (something that we've always believed in), seasonal diversity, access to our full range of seasonal beers, and the specialties that come through the year. Expect variety as well as our staple core beers.
They should care because we are a 100% independent brewery. We don't have to answer to a bottom line or shareholders. We get to run our business the way we think is right. We make the best quality beer and we take care of the people that make our beer and care for our beer. That spirit of independence is who we are and we think that Texans can really appreciate that spirit.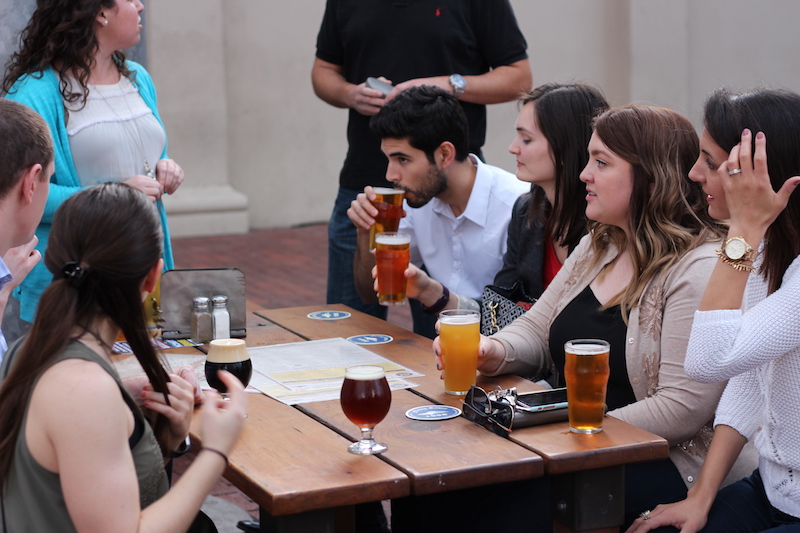 Thank you so much to Laura and her team for their time and for bringing Bell's to Texas. Having it available at other Saucers across the country and seeing the loyal fans, we knew it was going to be a hit. Keep your eyes open as more of Bell's seasonal offerings get released and don't miss your chance to taste Am I Right or Amarillo.
---