Hey, Beerknurds! (Sorry for yelling.) We're now accepting photo submissions for the 2017-2018 Flying Saucer Beerknurd Calendar. This is your chance to achieve immortality!*
It's summer and you're on vacation. You know you're taking lots of touristy photos. All you have to do is make sure you're wearing your Beerknurd gear, find an interesting background, and shake off that beer buzz to snap a quality photo. (We must stress that we're looking for quality here.)
Once you've done that, simply visit photocontest.beerknurd.com and follow the instructions to submit your photo. All entries are due by August 31st, 2017. We'll look at all the photos and we'll pick the best of the best to be a part of the 2017-2018 Beerknurd Calendar.
So, if you've already taken your vacation, start scrolling through your camera and phone to find those photos that could win you a spot in the calendar. (Your memory could probably use the jogging.) And if you still have a trip planned, don't leave home without our Beerknurd shirt and start planning that one epic picture.
Need inspiration? Check out last year's chosen photos.
*for one year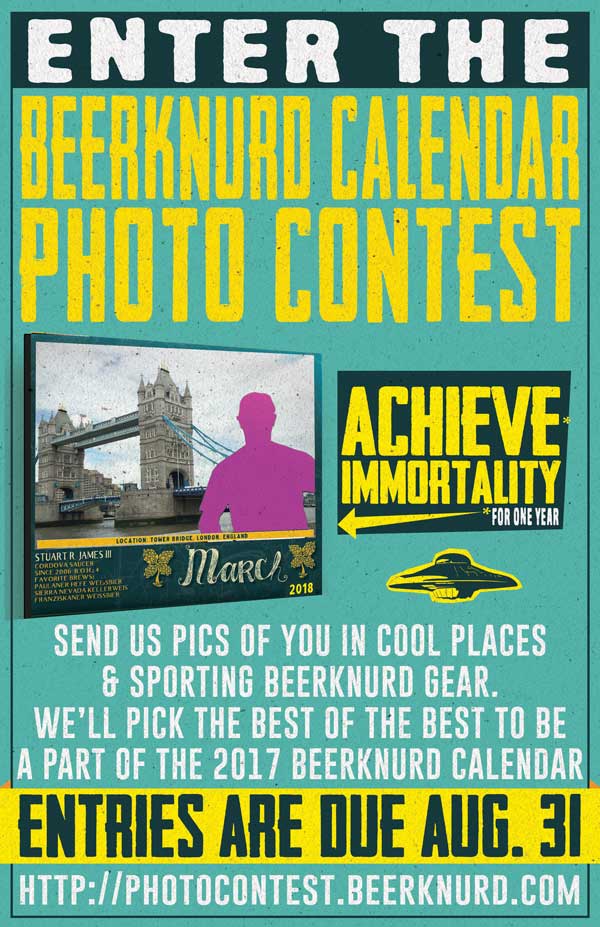 ---